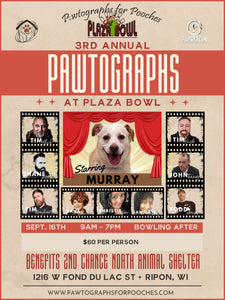 3rd Annual Pawtographs at Plaza Bowl!
Join Shane and other great guests September 16th, 2023 from 9am-7pm in Ripon, WI as they raise money for Second Chance North Animal Shelter. This event is always a fun time and it benefits an important charity as well! If you haven't heard the story of how Pawtographs was started or have never heard about Murray, you can't miss this event!
Get Tickets Here
Great Lakes Paranormal Conference!
Dive into the supernatural with Shane at the inaugural Great Lakes Paranormal Conference September 22-24, 2023. There's an electrifying lineup of speakers who are ready to share their captivating experiences, ranging from encounters with apparitions to mysterious tales of the Mothman and beyond.

You'll discover a trove of vendors, interactive workshops, intense investigations, intimate meet and greets, and so much more.

But what truly sets this conference apart? It's taking place within the eerie walls of a reputedly haunted school in Glenbeulah, WI - an experience guaranteed to send a shiver down your spine.

Get Tickets Here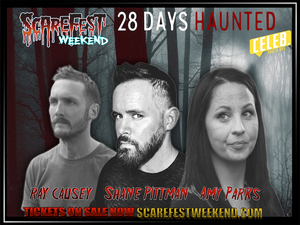 Scarefest Weekend!
Join Shane and "Team Denver" from Netflix's hit series 28 Days Haunted - Ray Causey and Amy Parks - for Scarefest's 15th year October 20-22, 2023! Experience the sinister side of Comic Con and see all of your favorite horror and paranormal celebrities!
Get Tickets Here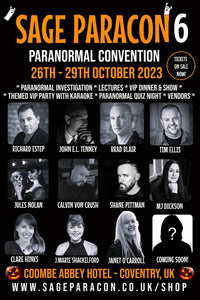 Sage Paracon 6 - UK Paranormal Convention!
SAGE PARACON UK - 26th - 29TH OCTOBER 2023 AT COOMBE ABBEY HOTEL, COVENTRY, WEST MIDLANDS, ENGLAND.
At Sage Paracon U.K. there are a variety of paranormal talks, international speakers, vendors, SFX make-up artists to get you ready for the VIP Party on Saturday night, karaoke, and much more. We encourage members of paranormal teams to join us, network, and promote your team! 
The weekend is open to all - whether you have an interest in all things paranormal or you are an experienced investigator. Come along and see what it is all about, we know you will enjoy our weekends. 
Join Shane in the UK and have an experience of a lifetime!
Get Tickets Here