Join Shane and the cast of the netflix hit show 28 days haunted!
Shane will be in Fort Wayne, Indiana at the beautiful Bell Mansion for an exclusive event with his fellow cast members of Netflix' "28 Days Haunted"! This is the first time the entire crew will be together for an event, so don't miss it!
January 19th and 20th, 2024!
Get Tickets Here!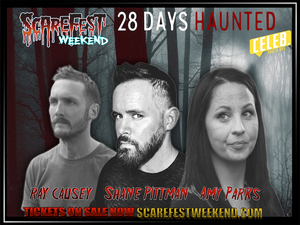 See Shane in Lexington, Kentucky for Scarefest Weekend!
Join Shane and "Team Denver" from Netflix's hit series 28 Days Haunted - Ray Causey and Amy Parks - for Scarefest's 15th year October 20-22, 2023! Experience the sinister side of Comic Con and see all of your favorite horror and paranormal celebrities!
Get Tickets Here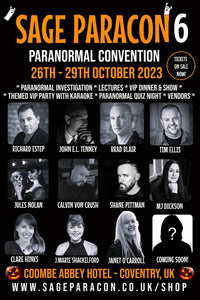 Sage Paracon 6 - UK Paranormal Convention!
SAGE PARACON UK - 26th - 29TH OCTOBER 2023 AT COOMBE ABBEY HOTEL, COVENTRY, WEST MIDLANDS, ENGLAND.
At Sage Paracon U.K. there are a variety of paranormal talks, international speakers, vendors, SFX make-up artists to get you ready for the VIP Party on Saturday night, karaoke, and much more. We encourage members of paranormal teams to join us, network, and promote your team! 
The weekend is open to all - whether you have an interest in all things paranormal or you are an experienced investigator. Come along and see what it is all about, we know you will enjoy our weekends. 
Join Shane in the UK and have an experience of a lifetime!
Get Tickets Here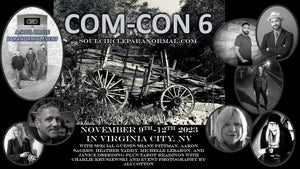 Come see Shane at Virginia City Com-Con 6 November 9-12!
Com-Con 6 is scheduled for November 9th through the 12th in Virginia City Nevada. This annual three-night event includes 5 special guests and will also include time to schedule tarot readings and photo sessions (not included in ticket price and to be scheduled separately).
Special guests this year include Shane Pittman, Aaron Sagers, Heather Taddy, Michelle LeBaron, and Janice Oberding with additional package purchase options from Ali Cotton and Charlie Kryszewski. Tara and Ryan McLeod will be managing logistics.
Shane On Travel Channel's The Holzer Files!
---
Shane On Netflix' 28 Days Haunted!
---